allen doty
godfather
Allen has been an owner of Cumberland Transit since 1981, and he's been an outdoor enthusiast since he was born. You will likely catch Allen behind the counter at the store or enjoying some joe at Three Brothers Coffee, unless he sneaks out for a hike in the Smokies or a day fly fishing on the streams of North Carolina. When he's in the store, every once in a while you'll find him hacking into employee email accounts to send out fake emails all in good fun keeping the staff on their toes. Allen is the proud father of two boys who have been known to test the boundaries of society by bungee jumping off of bridges or building snowboard jumps from excess ice rink scraps. Apparently, the apples didn't fall far from the tree. He has never been one to turn down a good margarita, but prefers to drink with good company. You can pretty much consider him the godfather of Cumberland Transit.
tj wilt
rookie/ new guy/ instigator
Compared to the rest of our staff, TJ brings a rookie perspective to Cumberland Transit. TJ and Allen partnered at the end of 2012, and agreed to own the store together for the next 40 years. TJ has been a loyal customer and fan of the store since he was a boy, but he recently decided to really take his obsession to the next level by partnering with Allen. TJ often subjects the staff and the customers to the chaos (he calls it "energy") that his three boys bring through the store. These would be the same three boys that make up the Three Brothers in Three Brothers Coffee. TJ is a Nashville native who enjoys taking advantage of the local parks and trails by running at dawn or hiking with his boys. When he's on the clock, you can find TJ breaking down the books, strategizing the marketing, or simply causing mischief for the staff from high above in the loft at the West End store.
michael modesto
facilities guru
Michael "Modo" Modesto is our master of facilities, which includes, well, everything.  Michael is skilled in IT, lighting, carpentry, auto-mechanics, plumbing, ping-pong, 80s music, and bartending. Basically, he's our go-to guy for any issue. Modo still finds time to race his bike and even though he's well into his 30s, he still dominates some of the young'uns in cyclocross races. Modo has been with Cumberland Transit since 2007, and if he ever tries to leave, we plan to chain him to the bike stand out back, or the sign out front.
jason thienel
 manager of all things general…
Jason has been one of our experts since 2005. A jack-of-all-outdoor-activities, Jason has recently been dominating the trail running circuit as well. Turns out, he's a lot faster when he's not trying to run up the side of a rock!  And when I say trail running, I am talking 100 miles at a time, yeah, I know.  As one of Nashville's brave commuter cyclists, you might see Jason flying past you on the road while you sit in rush hour traffic. Jason is all about efficiency, so he can get back to the climbing gym or off to his next adventure. Look for his scruffy beard in one of our Instagram posts!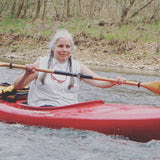 becky cadwallader
 Becky has been with us since 1985, making her one of our longest tenured employees. She's the mother hen of Cumberland Transit, who's always around to keep everyone in line. We count on Becky to keep us organized and plan our holiday parties as well as the super bowl pool (wait, don't tell). As the youngest grandmother around, Becky's grandchildren can be seen working the store floor with her from time to time. Every once in a while, Becky is mistaken for Allen's wife—it's not the case, but you'll see her go along with it just to make a customer laugh! After being with us for the better part of three decades, Becky controls Cumberland Transit. Look for her in behind the front counter next visit.
bill bailey
 Bill is a Nashville native, and he's been around long enough that he might already know who you are. Bill is our resident expert in hiking and camping. He's completed the Appalachian Trail twice, and he will be happy to share his experiences—good and bad—before you jump into the woods. Bill can help you with everything from learning to start a fire to protecting your food supply from bears. You can find Bill in our equipment section, but he'll be happy to help you out with any gear in our entire store.
lori ridgeway
 Lori has been working as our in-house shoe expert since 1996. She's so good, she can practically pick out your shoe size as soon as you walk through the door. After nearly 20 years at Cumberland Transit, Lori can help you find the perfect shoe for whatever you need—and more importantly, she'll find the right fit, too! When she's not sizing up your feet (seriously, it's like magic), Lori writes and sings beautiful songs.